Heidi is hosting the Poetry Friday roundup today here at her blog, "my juicy little universe." Be sure to read her amazing collection of odes to the month of March across the centuries. And a happy birthday to Heidi tomorrow!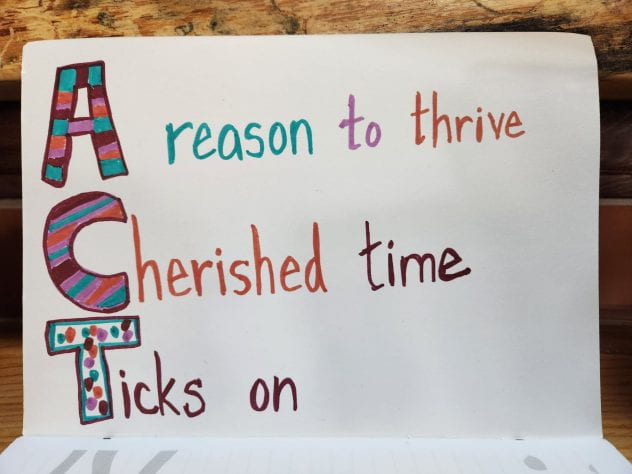 I've had thoughts of my mortality this week. (No particular reason, except I'll be 65 this year!) Today I woke up thinking about my one word for 2023–ACT–and wrote this acrostic (with my new Sharpie markers).
A reason to thrive
Cherished time
Ticks on
Last year, my word was PURPOSE. I felt I spent the whole year with vague wonderings like, "Could this be my retirement purpose?" Then in 2023, I thought I just need to ACT on the needs around me. I won't be here forever.
Last week in the Slice of Life challenge I wrote a golden shovel poem based on a quote from Irene Latham's Poetry Friday post last week. Read Irene's post here; it's beautiful, and she is a good example of someone who acts–making opportunities for living well and doing good. The quote I used is "What if our only purpose really is to be present?"
What can I say except this day is precious and
if it must be my last, I will live it contentedly.
Our world will go on without me, and finally
only LOVE will prevail. But if I get another day, on
purpose I will live it–
really live it. Even if it
is just sitting inside, staying warm,
to read and write, I can still
be here, in this place, fully alive, opening this sweet
present.
~Denise Krebs, after Irene Latham